I was never "good" at science. With one exception–biology, sophomore year. I think it was something about the exotic vocabulary and pictures that piqued my interest. Ironically, two years ago I became an ad hoc / extemporaneous long-term substitute teacher for the sciences, ranging from biology and chemistry to physics and astronomy.  Thank God it snowed for the first four days I was supposed to start teaching. I played catch-up the entire time I was snowed in. The last time I studied that hard was sixteen years ago. Note: I was 16 years old sixteen years ago. I just got a little faint.
I still have some work saved from High School. On paper and floppy discs! In one big folder, I tucked away several essays from my English AP classes and notes from bio. The diagrams are labeled and colored with such exquisite detail that it almost seems as if a science person drew them. When I moved back home in 2015, I exhumed my notes and found one section totally dedicated to surface tension. Its definition stuck with me then, and continues to float around in my mind now–
Water molecules want to cling to each other. At the surface, however, there are fewer water molecules to cling to since there is air above (thus, no water molecules). This results in a stronger bond between those molecules that actually do come in contact with one another, and a layer of strongly bonded water. This surface layer (held together by surface tension) creates a considerable barrier between the atmosphere and the water. In fact, other than mercury, water has the greatest surface tension of any liquid.
What gets me about the concept of surface tension is that it can be personified, which is probably why so much of bio makes sense to me. We all know the feelings associated with water metaphors: learning to tread water; feeling like your drowning in paperwork; singing in the rain, when it rains it pours. But surface tension never gets its due in our vernacular. Today I felt so many feelings that the "floodgates opened," which of course means I cried. Again. But what followed, as is always my way, were the thought bubbles. Why is it so upsetting to be seen upset? How is it that in a very stressful work environment, the less I want to lean on other people the more I absolutely must?
How, I often ask myself, is it possible for other people to handle pressure at work? Why is no one else crying? The immediate answer to one of these questions is that dudes and ladies handle stress differently. The quota so far is for every one cry I have in a two week period, there are three nights where any one of my coworkers slams dishes, lashes out at a cook or decides not to show up for work. The odds are in neither party's favor.
There are so few of us in the kitchen. We work anywhere from 50-80 hours a week, morning noon and night. We kind of have to work well together. It's like being marooned on an island. We have to try not to cannibalize each other to survive (all due respect to the profession which, thankfully, requires us to know how to cook enough so that we don't have to resort to such measures–emotionally or otherwise). Like water molecules, we have to stick together. But oh, the tension. God forbid someone walks into work with a sour mood. We all feel it. I often put a voice to this when it happens, which my coworkers do not appreciate. Conversely, when one or more of us is in great spirits, it can uplift the whole crew. I swear it makes the food taste better.
It's like a pressure cooker. Everyone is exhausted. I have burns and cuts and aches that just keep happening. Yet it's part of the deal. The physical burdens of the job are nothing compared to what it feels like to be a complete novice in a world where everyone else seems to know what they are doing. Not to mention the fact that I am hyper-sensitive/critical of any sideways glances, comments or insinuations about my femininity. For the most part, that's a good thing. Recently a male coworker asked me what it felt like to be one of four females out of 20+ people working in the kitchen. I told him I was excited–it meant I had a front row seat to watch the Patriarchy crumble.
My bark is almost always more vicious than my bite.
What it actually feels like is quiet defeat. I can pitch a fit or become spontaneously combustible, but people still need to eat. SOMEONE NEEDS TO DOUBLE-BOIL THE FUCKING crème brûlée. That's the way it goes.
As embarrassing as it has been to lose my shit on the regular, I am also relieved. Several of my kitchen mates remind me I am in the right place. Remember that guy, what's his name, GORDON RAMSEY? That guy loses his shit for millions of dollars a year. He doesn't cry; he yells.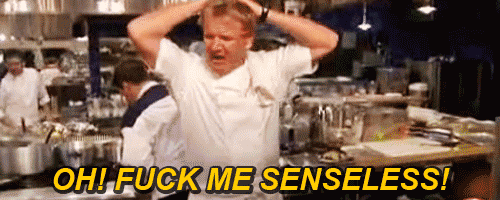 He's straight up abusive to his staff, but at least he has a sense of humor. I won't even discuss the parity of positive public opinion on women cooks versus male cooks, but I think you can piece it together. Bad behavior gets rewarded. In any other profession, our vastly inappropriate conversations about literally anything would get us fired. But in the kitchen, you better buck up and shut up or someone will show you the door. It's refreshing. It's also brutal and infuriating. But in every job I've ever had, no one is above the law of proving themselves. And for someone as impatient, perfectionistic, judgmental and sensitive as I am, time is an imperious bully. I want to be good at everything before the oven timer for the bacon goes off first thing in the morning. Not going to happen.
So there is acceptance. And that surface tension. We are all little water molecules buoying each other up. I had a conversation with Bowie today about it. In recovery and otherwise, this is where I've been led. These coworkers and friends are my current spiritual teachers. I pray, as I have on many stressful days, to acknowledge to my Higher Power that I'd be crazy not to follow, follow where He leads.
There you have it: spirituality on the fly.
xo
Featured image courtesy of Wikimedia Commons